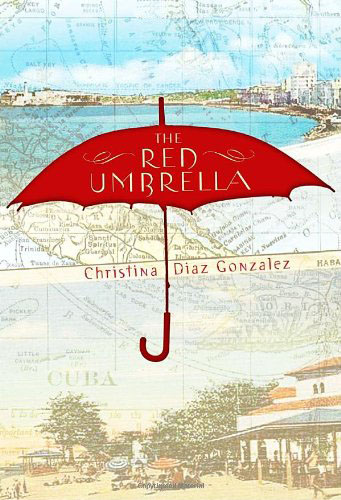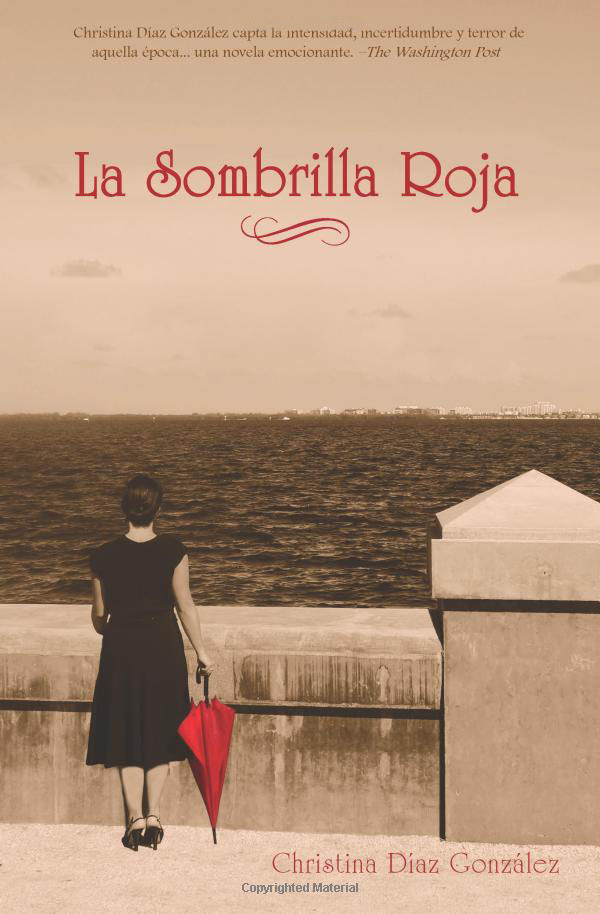 (Spanish translation of The Red Umbrella)
Gables Publishing, 2017
Videos
Book Trailer
Virtual Reading
Virtual Reading in Spanish
The Red Umbrella /
La Sombrilla Roja
"Gonzalez enters the literary scene with this exceptional historical novel."
—Kirkus Reviews
In 1961, two years after the Communist revolution, Lucía Álvarez still leads a carefree life, dreaming of parties and her first crush. But when the soldiers come to her sleepy Cuban town, everything begins to change. Freedoms are stripped away. Neighbors disappear. Her friends feel like strangers. And her family is being watched.
As the revolution's impact becomes more oppressive, Lucía's parents make the heart-wrenching decision to send her and her little brother to the United States—on their own.
Suddenly plunked down in Nebraska with well-meaning strangers, Lucía struggles to adapt to a new country, a new language, a new way of life. But what of her old life? Will she ever see her home or her parents again? And if she does, will she still be the same girl?
Based on the real events of Operation Pedro Pan where over 14,000 Cuban children were sent to the U.S. in the two year period between 1960-1962, this novel depicts the pain of losing one's homeland and showcases the generosity of the American spirit.
Educator's Guide for THE RED UMBRELLA and A THUNDEROUS WHISPER
Awards & Recognition:
American Library Association Best Fiction for Young Adults
ALA Quick Pick for Reluctant Young Adult Readers
Top Ten Indie Next Book
International Reading Association – Teacher's Choice Book
CCBC Choices Book
Skipping Stones Honor Award
International Latino Book Award – Silver Medal
Florida Book Award – Gold Medal
Nebraska Book Award – Gold Medal
Oregon State Reading List
Nebraska State Reading List
Arizona State Reading List
Latina Magazine's Best Book of the Year
ABC New Voices Pick
Bank Street College of Education Best Children's Book
Christian Science Monitor's Best Children's Book 
2017 YALSA Amazing Audiobook
2018 Junior Library Guild Selection for Spanish Books
Florida B.E.S.T. Standards Book- 7th grade
"Christina Diaz Gonzalez captures the fervor, uncertainty and fear of the times through Lucía's first-person perspective and the newspaper headlines that begin each chapter…a compelling first novel." – Washington Post
"Debut author Gonzalez excels at highlighting the cultural difficulties… memorable heroine and supporting cast offer a moving portrait of resilience and reinvention" – Publisher's Weekly
"An insightful window into the aspect of recent history known as Pedro Pan" – Denver Post
"Gonzalez deals effectively with separation, culture shock, homesickness, uncertainty and identity as she captures what is also a grand adventure – resilient kids taking to a new way of life." – San Francisco Chronicle
"Well-written novel has a thoroughly believable protagonist and well-chosen period details… it could generate some excellent classroom discussions"– School Library Journal
"Through the eyes of (the) likable young narrator, readers will understand a compelling part of history. Kudos to Christina Diaz Gonzalez for sharing her family's story, and for telling it so well." – Christian Science Monitor
Videos
Book Trailer
Virtual Reading
Virtual Reading in Spanish