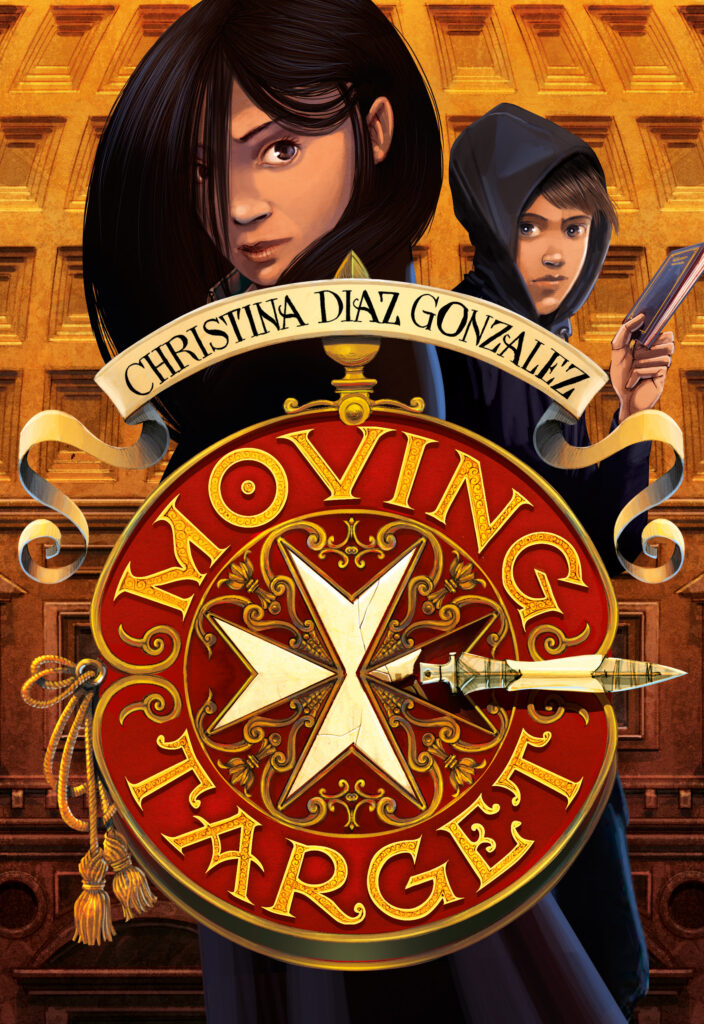 Scholastic Press, 2015
ISBN-10 ‏ : ‎ 0545773199
ISBN-13 ‏ : ‎ 978-0545773195
Book 1 of the Moving Target duology
"Set in present-day Rome, Gonzalez's thriller hits the ground running and doesn't let up." —Publisher's Weekly
Cassie Arroyo, an American studying in Rome, has her world ripped apart when someone tries to kill her father, an art history professor at an Italian university. Is she their next target?
Cassie sets out to uncover what is happening, only to learn that she is a member of an ancient bloodline that enables her to use the Spear of Destiny–a legendary object that can alter the future. Now running from a secret organization intent on killing those from her bloodline, Cassie must–with the help of some friends–decipher the clues that will lead her to the Spear.
This is a fast-paced thrill-ride of a book, rich with riddles and myth, that young readers will not want to put down.
Educator's Guide for MOVING TARGET
Awards & Recognition
ALA Quick Pick for Reluctant Young Adult Readers
Florida Book Award – Bronze
International Latino Book Award – Honorable Mention
Scholastic Book Fair Featured Title
Texas (Lone Star) Reading List
Ohio (Buckeye) State Reading List
Maine State Reading List
Florida (Sunshine State) Reading List
South Carolina State Reading List
Translated into German & Turkish
"A grand adventure! The spunky heroine must decipher riddles, follow clues, and make life-or-death decisions. An exciting and entertaining adventure… that will keep readers engaged until the cliffhanger ending and leave them waiting for the next book." – Kirkus Reviews
"Gonzalez has created an action-packed mystery . . . A cliff-hanger ending will keep readers anxiously awaiting the next installment. Fans of Jude Watson's Loot and Chris Grabenstein's Escape from Mr. Lemoncello's Library will devour this series opener." – School Library Journal
"Moving Target is a story with so much of what I love: secret history, ancient relics, a breathtaking pace, and characters I can't help but root for." — Matthew J. Kirby, Edgar Award-winning author of Icefall
"Christina Diaz Gonzalez weaves a tight, twisty, heart-in-your-throat adventure that delivers thrill after thrill." – Jude Watson, author of Loot