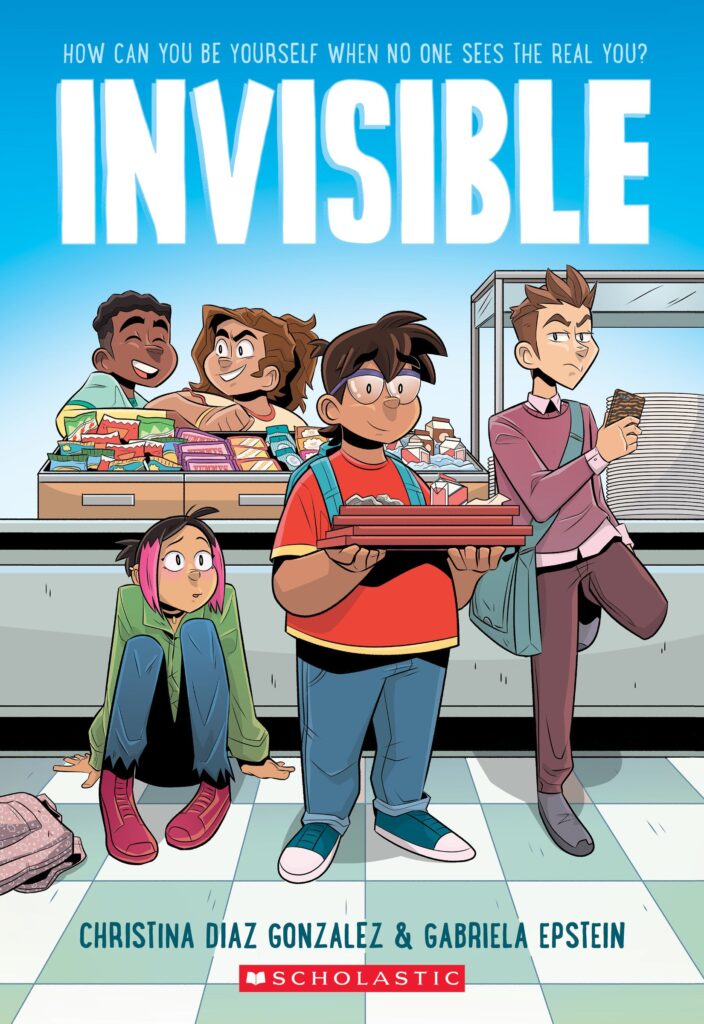 Videos
Book Trailer for Invisible
"Illuminating and engaging…this is pitch-perfect!" – Booklist *STARRED* Review
A must-have graphic novel about five very different students who are forced together by their school to complete community service… and may just have more in common than they thought.
How can you be yourself when no one sees the real you?
Five students meet in the school cafeteria when they're forced to complete their school community service hours.
There's George: the brain
Sara: the loner
Dayara: the tough kid
Nico: the rich kid
Miguel: the athlete
Although they're sure they have nothing in common with each other, some people see them as all the same… just five Spanish-speaking kids. Then they meet someone who truly needs their help, and they must decide whether they are each willing to expose their own secrets to help… or if remaining invisible is the only way to survive middle school.
Awards & Recognition
USA TODAY BESTSELLER

An INDIE BESTSELLER
*STARRED* Reviews from Booklist, School Library Journal, & BookPage
Amazon #1 New Release
INDIE Next List Recommended Book
2022 School Library Journal Best Books
2023 Notable Book for a Global Society Award (Int'l Literacy Association)
2022 ALA Graphic Novel & Comics Round Table Top Ten Graphic Novel
2023 Bank Street College of Education Best Books of the Year
2022 Cybills Award Winner
2022 Nerdy Book Club Award
2022 Virginia Library Association Graphic Novel Diversity Award 
2023 Barnes & Noble Book Award Shortlist Title
A Barnes & Noble Most Anticipated Read for August 2022
Target Book Club Pick – February 2023
2023 International Latino Book Award – Silver Medal
2023-24 Texas Bluebonnet List
2023-24 Texas Little Mavericks List
2023-24 Texas Mavericks List
2022-23 Colorado Blue Spruce Young Adult Book Award Finalist
2023-24 Oregon Battle of the Books Selection
2023-24 New Mexico Land of Enchantment Book Award List
2023-24 Maryland Black-Eyed Susan Book Award List
2023-24 Rhode Island Middle School Book Award List
2023-24 Florida Sunshine State Young Readers Award List
2024 Hawai'i Nēnē Award List
2024 North Carolina Children's Book Award List
2024 Utah Beehive Book Award List
2023-24 Tennessee Volunteer State Book Award List
2023 California Recommended Book List
2023-24 Kentucky Bluegrass Book Award List
2024-25 Nebraska Golden Sower Book Award List
2024-25 Indiana Young Hoosier Book Award List
2024-2025 Kansas William Allen White Book Award List
"Illuminating and engaging… with a sweet twist at the end, multifaceted characters, and moments of genuine comedy, this is pitch-perfect!" 
—Booklist *STARRED* Review
"A welcome addition to any graphic novel collection, Invisible skillfully explores the negative impact of stereotyping while also offering an entertaining and spirited reading experience." — School Library Journal *STARRED* Review
" A fresh and cleverly conceived take on The Breakfast Club… colorful and engaging… celebrates individuality and community while transcending language barriers." — BookPage *STARRED* Review 
"Gonzalez clearly shows how each kid—all characterized distinctly and with complexity—is more than others' assumptions." — Publisher's Weekly
"Gonzalez's compelling graphic novel… ably explores the concept of diversity within the Latin community, including national origin, race, ethnicity, and socioeconomic status, debunking the harmful myth that the Latin diaspora is monolithic." — Horn Book
Videos
Book Trailer for Invisible